[가상화폐 동향] 코인베이스, 1000억원대 언닷컴 인수 왜?
미국 최대 가상화폐 거래소인 코인베이스(Coinbase)가 블록체인 기술 관련 기업 인수와 인재 영입에 공을 들이고 있어 업계의 관심을 끌고 있다.
코인베이스는 지난주 '사이퍼 브라우저'를 인수한데 이어 블록체인 기반 유료 메시징 플랫폼인 언닷컴(Earn.com)을 인수했다고 밝혔다. 인수가격은 공개되지 않았으나 다수의 매체가 1억∼1억2000만달러에 달할 것으로 보도했다.
지난 3월 링크드인 출신의 M&A 전문가 에밀리 최를 기용한 코인베이스는 기업 인수합병과 더불어 인재 영입에도 공을 들이고 있는 모습이다.
언닷컴의 공동창업자이자 최고경영자(CEO)인 발라지 스리니바산을 최고기술책임자(CTO)로 영입했다. 언닷컴 인수 조건에 스리니바산의 코인베이스 합류가 포함된 것으로 알려졌다. 스리니바산은 가상화폐와 블록체인 기술의 최고 전문가 중 한명으로 알려진 스탠퍼드대 출신 공학 박사다.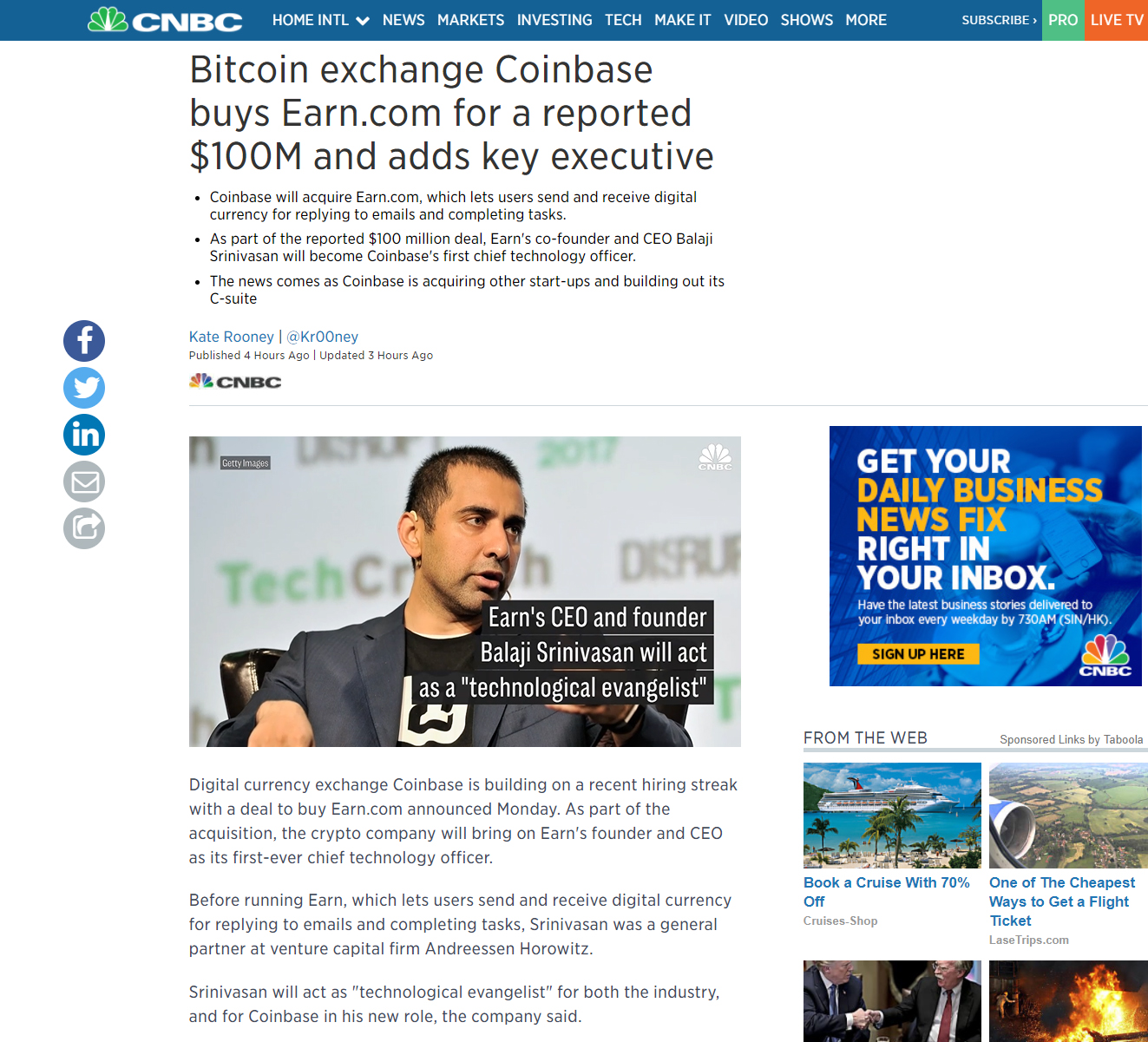 Bitcoin exchange Coinbase buys Earn.com for a reported $100M and adds key executive
Digital currency exchange Coinbase is building on a recent hiring streak with a deal to buy Earn.com announced Monday. As part of the acquisition, the crypto company will bring on Earn's founder and CEO as its first-ever chief technology officer.
Before running Earn, which lets users send and receive digital currency for replying to emails and completing tasks, Srinivasan was a general partner at venture capital firm Andreessen Horowitz.
Srinivasan will act as "technological evangelist" for both the industry, and for Coinbase in his new role, the company said.
"Balaji has become one of the most respected technologists in the crypto field and is considered one of the technology industry's few true originalists," Coinbase CEO Brian Armstrong said in a blog post Monday.
Coinbase did not disclose the terms of the deal but according to Recode, the offer was more than $100 million.
In March, Coinbase poached Emilie Choi from LinkedIn to lead new acquisitions and partnerships. The company also hired Tina Bhatnagar from Twitter, and last week brought in former Facebook and Twitter communications director Rachel Horowitz. It also hired Eric Scro, a former New York Stock Exchange executive, as VP of Finance in March.
Coinbase has been busy on acquisition front.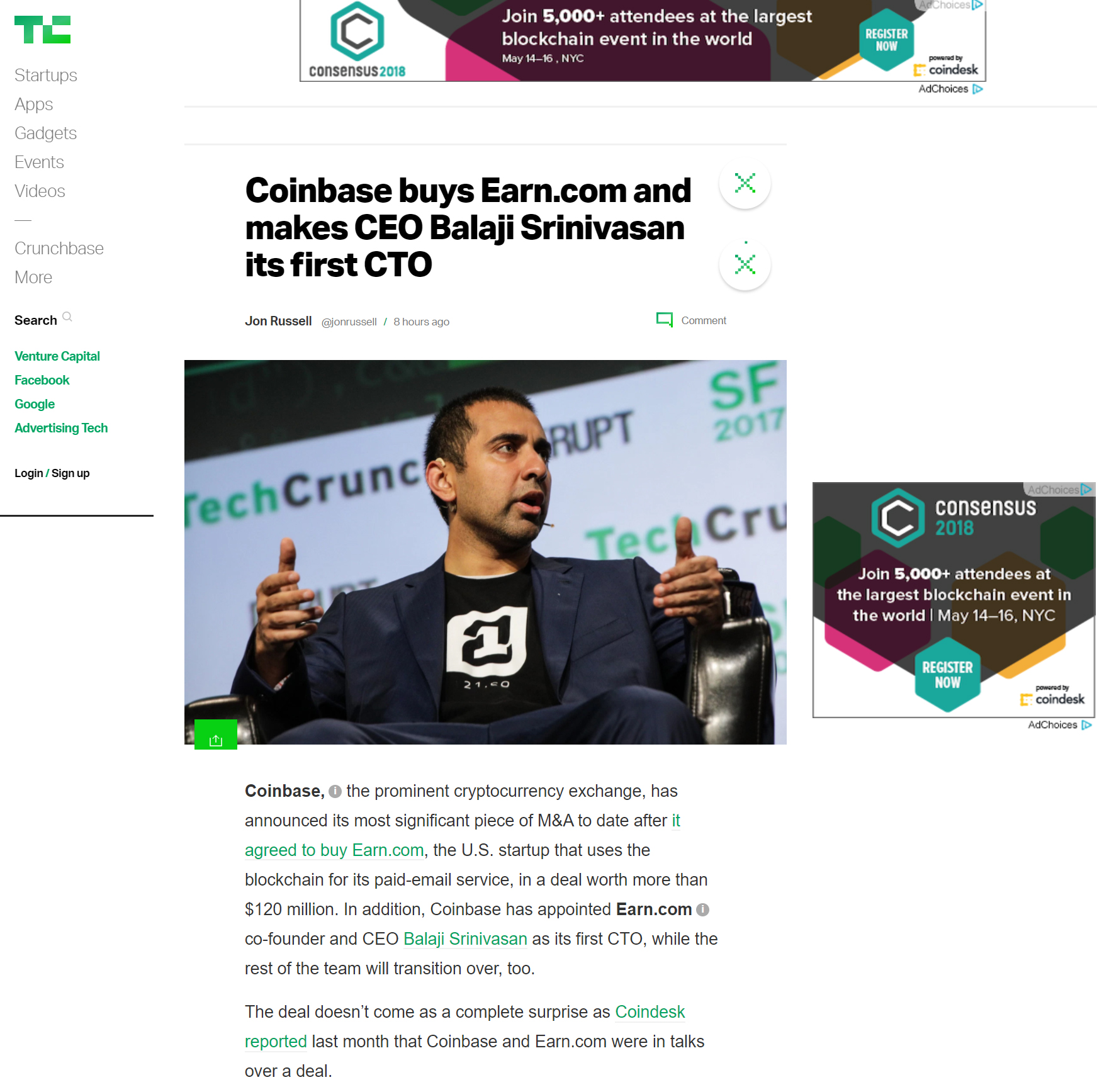 Coinbase buys Earn.com and makes CEO Balaji Srinivasan its first CTO
Coinbase, the prominent cryptocurrency exchange, has announced its most significant piece of M&A to date after it agreed to buy Earn.com, the U.S. startup that uses the blockchain for its paid-email service, in a deal worth more than $120 million. In addition, Coinbase has appointed Earn.com co-founder and CEO Balaji Srinivasan as its first CTO, while the rest of the team will transition over, too.
The deal doesn't come as a complete surprise as Coindesk reported last month that Coinbase and Earn.com were in talks over a deal.