[가상화폐 동향] 비트코인 반등에 2만달러·2만5000달러 전망 '훈풍'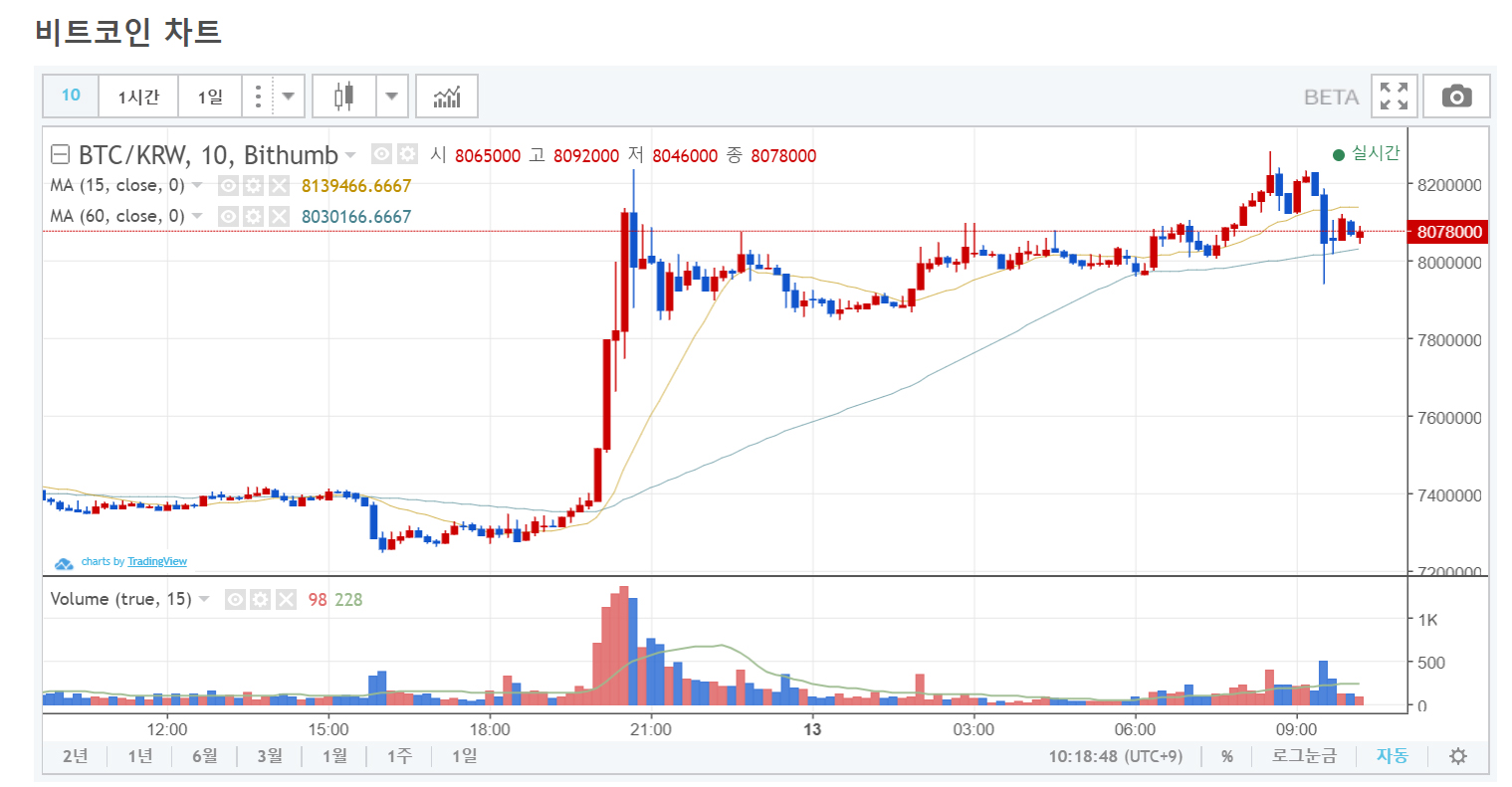 지난 밤(12일) 비트코인이 채 1시간만에 1000달러 급등했다. 이에 대해 그동안 예견됐던 긍정론이 다시금 급부상 하고 있다.
헤지펀드 판테라 캐피털이 블룸버그통신을 통해 비트코인이 바닥을 찍고 상승세에 접어들었다고 밝혔다. 더불어 언제든지 지난해 말 수준인 2만달러를 회복할 것이라고 덧붙였다.
한편, 비트코인 투자 낙관론자인 톰리(Tom Lee)가 연말까지 2만5000달러를 회복할 것이라고 전망했던 것을 다시금 강조하고 나섰다. ([가상화폐 동향] 엇갈린 비트코인 전망 "가치없어! 더 떨어진다" vs "여름 2만달러될 것")
톰리는 가상화폐 시장 압박이 미국 세금 납부 시즌과 연관되어 있을 것이라며, 납세일이 지나면 압박은 약해져 상승세로 돌아설 것으로 전망했다.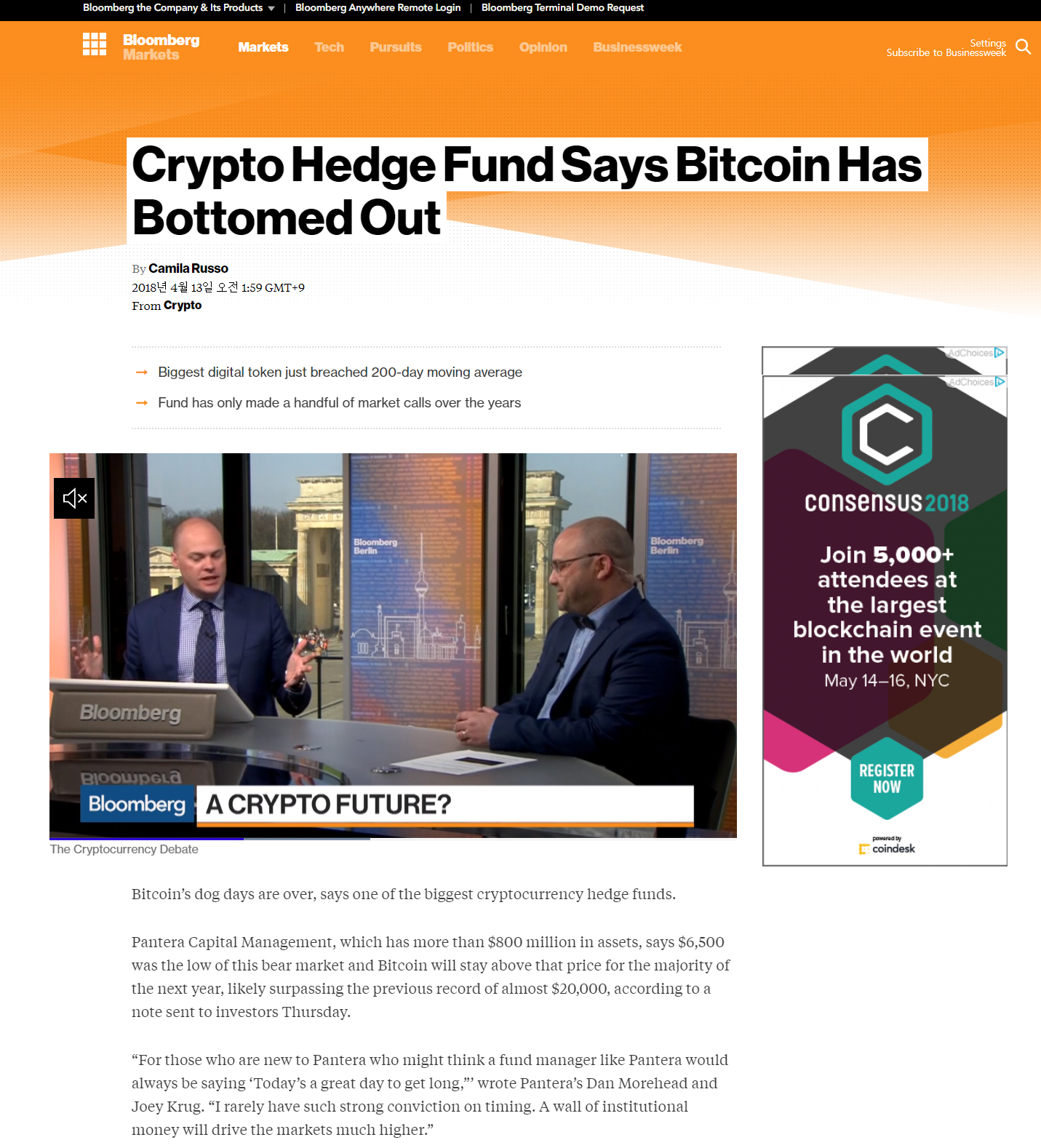 Crypto Hedge Fund Says Bitcoin Has Bottomed Out
Bitcoin's dog days are over, says one of the biggest cryptocurrency hedge funds.
Pantera Capital Management, which has more than $800 million in assets, says $6,500 was the low of this bear market and Bitcoin will stay above that price for the majority of the next year, likely surpassing the previous record of almost $20,000, according to a note sent to investors Thursday.
"For those who are new to Pantera who might think a fund manager like Pantera would always be saying 'Today's a great day to get long,"' wrote Pantera's Dan Morehead and Joey Krug. "I rarely have such strong conviction on timing. A wall of institutional money will drive the markets much higher."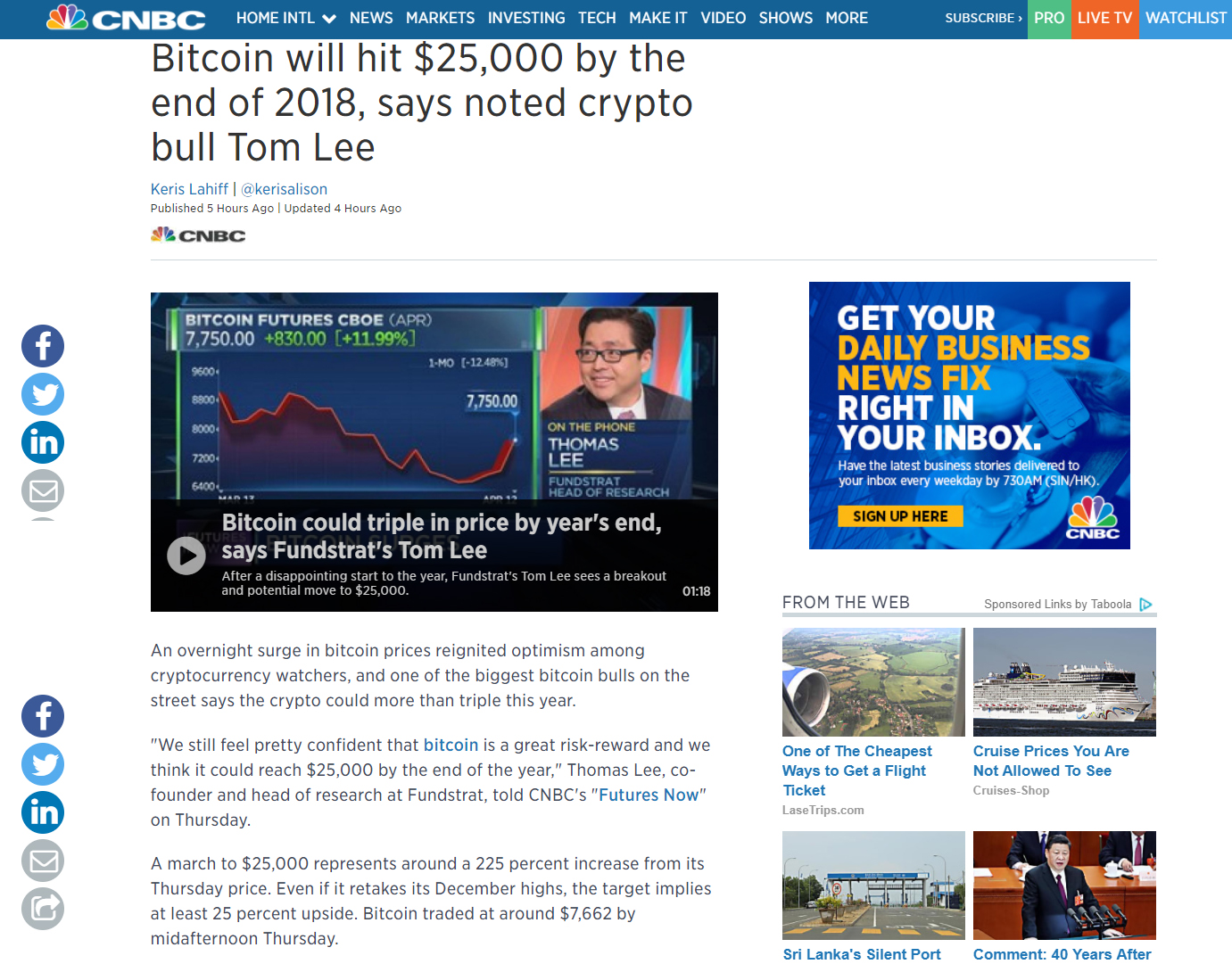 Bitcoin will hit $25,000 by the end of 2018, says noted crypto bull Tom Lee
Bitcoin could triple in price by year's end, says Fundstrat's Tom Lee Bitcoin could triple in price by year's end, says Fundstrat's Tom Lee  
An overnight surge in bitcoin prices reignited optimism among cryptocurrency watchers, and one of the biggest bitcoin bulls on the street says the crypto could more than triple this year.
"We still feel pretty confident that bitcoin is a great risk-reward and we think it could reach $25,000 by the end of the year," Thomas Lee, co-founder and head of research at Fundstrat, told CNBC's "Futures Now" on Thursday.
A march to $25,000 represents around a 225 percent increase from its Thursday price. Even if it retakes its December highs, the target implies at least 25 percent upside. Bitcoin traded at around $7,662 by midafternoon Thursday.
By his calculations, U.S. households owed as much as $25 billion in capital gains taxes on their cryptocurrency investments. With Tax Day of April 17, which is later than usual this year, just days away, that selling pressure has begun to abate.
April bitcoin trading formed an important technical reversal that suggests further upside ahead, according to Fundstrat research. Bitcoin steadied above $6,500 in the past two weeks, presenting a level of support and breaking through the March downtrend resistance. Fundstrat sees the next major resistance band around $9,000.
Bitcoin leapt nearly 11 percent higher Thursday. At one point early in the day, prices surged more than 17 percent to top $8,000. The last time the cryptocurrency moved above that level was March 28.